10 weeks electric boating off-grid

George and Sinead have been living and working off grid for over 10 weeks now, on their fossil fuel free 1980's Oyster yacht. George details what it's like to live a low impact life on the ocean and sail fully electric.

We've now been living and working off grid in our electric sailboat Muhuhu for over 10 weeks. In that time the vast majority of the energy we've consumed has come from our LG Neon2 Bifacial solar panels. Our wind turbine would have contributed too, as would propeller regeneration when we're sailing. We've not plugged into shore power once. The only fossil fuels we used were the last dregs of gas from our cylinders before we switched to induction cooking.
Currently we're using 1.5 and 2.5kwh per day to power our entire domestic system. This includes heating water, cooking, lighting, fridge and freezer, water pump, navigation systems, charging power tools and devices like phones, laptops and the drone etc. On days when we use some of the battery capacity for manoeuvring with the electric motor, and there's not much sun for charging, we forgo hot water. But in general, we've not needed to make many sacrifices when using power for propulsion. The LG Neon2 solar panels have performed admirably in all weathers; we've sailed through 35 knot winds, violent hail, huge squalls and lumpy seas.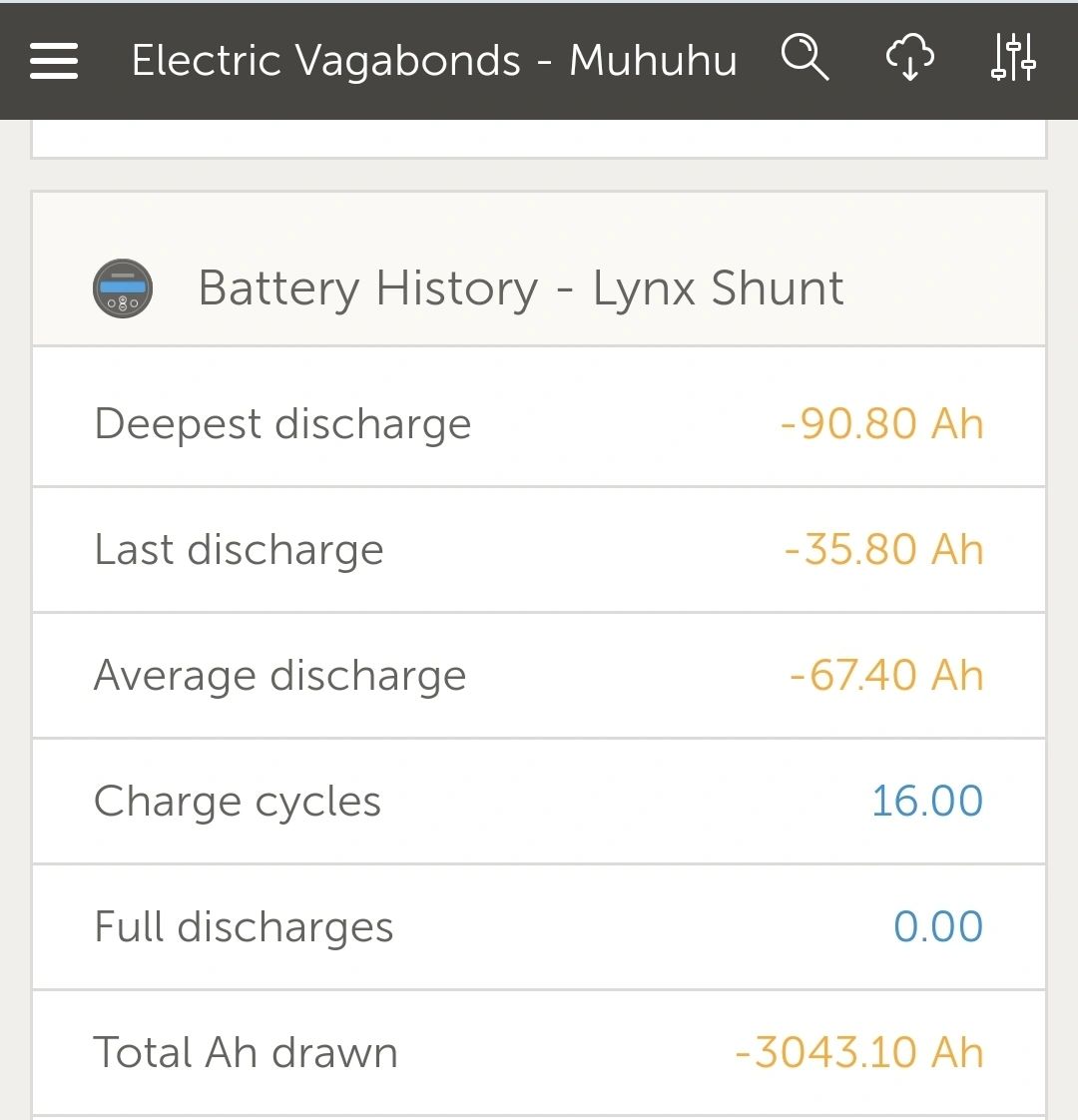 In 10 weeks we've used 3043Ah of energy from our 48v bank, which is 158kWh at the 52 volts-ish our batteries provide. That's over 15 times our battery capacity! The 158kWh consumption matches the amount of power generated in total, as our batteries are charged.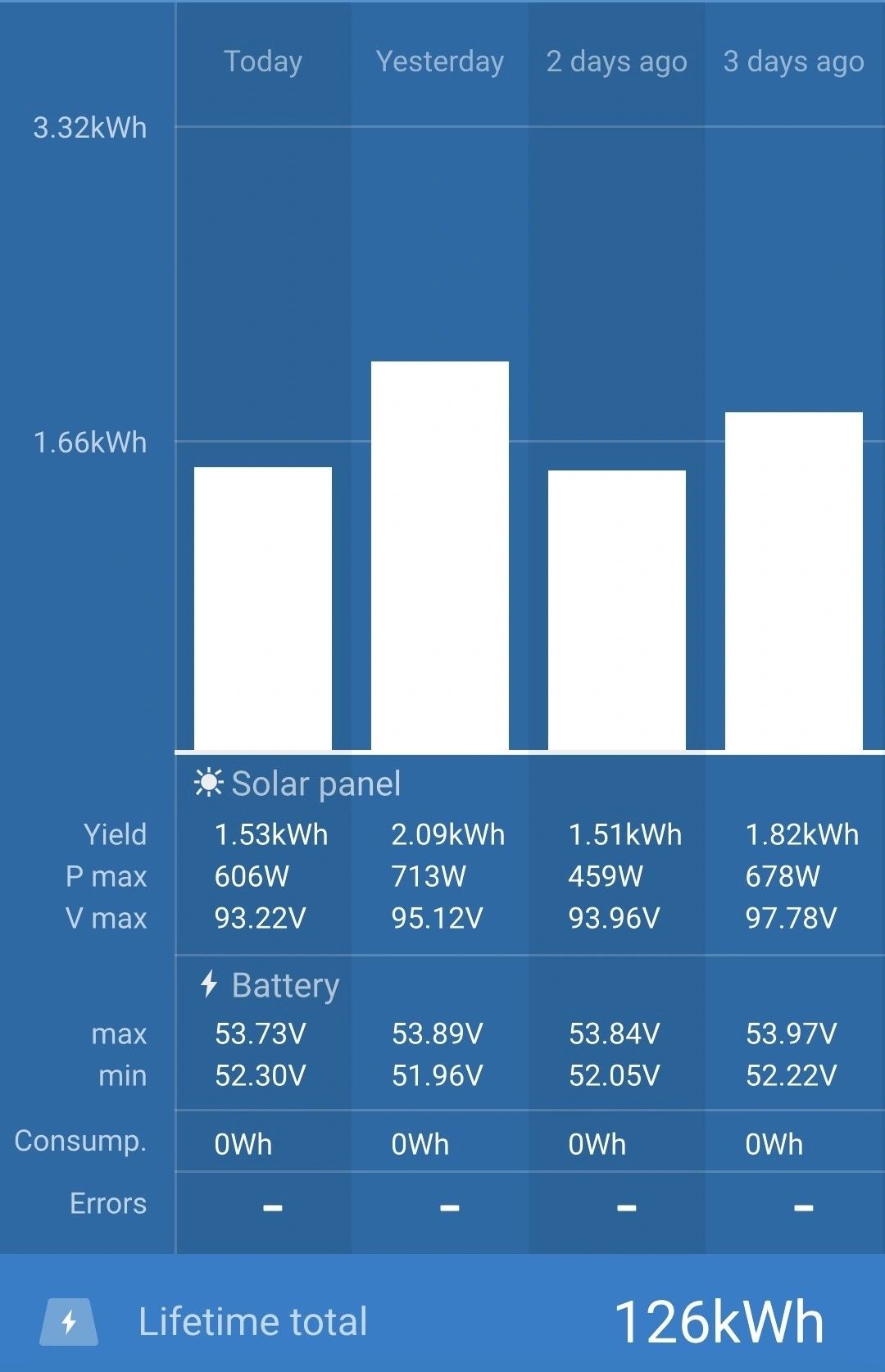 The 415w LG Neon2 Bifacial panels charging our 48V propulsion bank have harvested 126kWh, meaning the 32kWh difference must be mostly from our Silentwind turbine, with a fraction being from propeller regeneration. We'll add a Victron shunt to the turbine, to gain accurate data on that in future. 126kWh is decent yield, however this doesn't truly reflect the maximum potential. Some days we've not used our propulsion system, and our consumption has been much lower as a result. Other days were exceptionally sunny, meaning the batteries were charged quickly. As such, the batteries were fully charged a lot of the time, the panels would have harvested more power if they could, but the batteries were full. Some days the batteries were charged by 10am, even after lots of motoring the day before, and so any sunlight on the panels after that was wasted.
158kWh projected as an average use over the year is 821kWh. Certainly low impact, as the average power consumption of a UK house is 3731 kWh/year! And we've frequently been moving our entire home around the South West with this power too. Aside from the obvious initial cost of the Victron system, all this power has been free, from the wind and sun. This system would work in a van, bus, shipping container home, cabin, or whatever your off grid lifestyle. You could have free energy and very low consumption; low impact living at its best!
In the last 7 days our LG Neon2 Bifacial panels have harvested 12Kwh of energy, pretty decent considering we've experienced consistent drizzle, horizontal rain and general cloudy days with very little sun. Our consumption has been around the same; batteries hovering around 95% most days. Moving forward, we'll need to start thinking about colder weather. Shorter days, less sunshine, less renewable energy yield, and higher consumption too as we'll be running a dehumidifier for a few hours per day over winter. For heating a boat during wintertime, there isn't any real alternative to burning fuel. We could use electric fan heaters, but they are inefficient and use buckets of power. We could burn solid fuel like wood in a stove – we've enjoyed many evenings on our pals' boats sipping whiskey next to a cosy fire after a sea swim – but on our vessel, there's no real sensible location for a wood burner, and we already have a diesel heater installed. So does this mean the end of our fossil fuel free days for winter? Hopefully not! We're going to burn biodiesel, which can be almost carbon neutral if produced right. Not perfect, but not fossil fuel either. And maybe in the future we'll be able to burn something even greener?
If you'd like to find out more about removing LPG and diesel from your boat, off-grid energy, and electric propulsion, just get in touch. There are many different options for every vessel out there, and we have thoroughly tested a lot of them.